See on Scoop.it – The Wisdom Frontier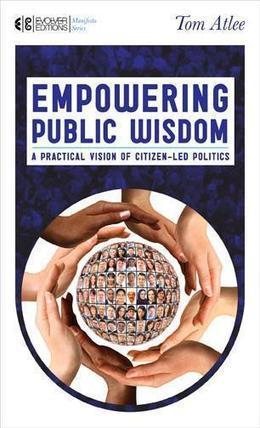 Excerpt from Tom Atlee's essay:

The public, as the collective supreme ruler of our democracy, has tremendous responsibility. The public needs to be able to find its own wisdom—public wisdom.

COLLECTIVE INTELLIGENCE AND COLLECTIVE WISDOM

I am coming to suspect that it is the fringes that make the difference between collective intelligence and collective wisdom.

Collective intelligence solves problems or resolves conflicts of, by and for a group, an organization, a community or a whole society. It solve those problems and conflicts for the here and now, for people who are interested, aware, and involved.

Collective wisdom, on the other hand, has a bigger challenge. It needs to expand out from the particular problem or conflict, from the here and now, from those interested, aware and involved. It needs to embrace larger contexts, interests, drivers and possibilities. It has to consider the deep needs of people long gone and yet unborn, and to delve into deeper levels of understanding and caring. It ventures into unseen dimensions of life – into background trends, hidden corruptions and connections, psychospiritual influences, scientific microcosms and macrocosms – to realize unexpected consequences, novel resources, and extraordinarily potent answers. Being the Big Picture form of intelligence, wisdom is born out of our capacity to stretch creatively into the unknown and the unacknowledged, into the new angle, the deeper parts of ourselves, the fringe insights and possibilities.

In the borderland where collective intelligence begins to expand into collective wisdom we see radical inclusion of erstwhile opponents in conversations enriched with broad-spectrum perspectives and information. We find Citizen Juries of randomly selected citizens studying briefing materials which summarize the main conflicting approaches to the issue they're considering and then spending a week interviewing diverse partisans and experts and pulling together conclusions and recommendations to share with the public and its representatives.

Such approaches are so much more collectively intelligent than the polarized battles, bought-off politicians, and back room deals that shape so much of public policy today. They are also wiser, although usually hovering on the edge of real wisdom. They don't journey too far in the direction of greater wisdom. That would take more thought, time, and resources. And it can seem just a bit too theoretical and risky for those involved in making things better now, with what we have.

But we need that bigger, longer-term wisdom. Given our circumstances, we can't be satisfied merely with intelligence – even when it is collective. We need to invite and push ourselves and each other beyond smart into big-picture ways of being wiser together. Why? Because that's where our greatest challenges and dangers will transmute into our greatest creative breakthroughs and positive possibilities. And because we are talking the edge of extinction here, for ourselves and so much of the rest of life – an edge that luckily also contains all our prospects for a far, far better world.